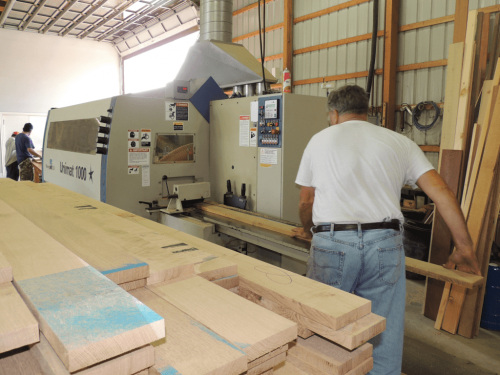 Milling Your Floor
WE CAREFULLY CRAFT AND MILL EVERY FLOOR.
The process of milling your floor starts with the careful hand selection of seasoned kiln dried woods. We will carefully pick lumber with suitable grain, color and grade to best match the vision you have of the floor for your home.
Once this is done we will mill the wood using precision machinery, that will not only give you an accurate smooth top surface, that truly needs little or no sanding; but we will mill industry recommended relief grooves on the bottom to help your floor stay flat. Our standard floors are tongue and grooved on the sides and ends as well. This allows for accurate, easy, and fast installation without the need for extra time consuming on-site cutting. The tongue and grooves are milled with enough tolerance, so that they go together easily, and do not require the need for aggressive forceful persuasion (a big hammer!).
For those who prefer, we also offer other milling options such as ship lap, square sides, and beveled edges. These options generally cost the same, or sometimes a little less. Talk to a representative for more information on these options.
Our slow speed milling process uses the latest insert tooling to give a precise, chatter free surface to every board. This together with constant monitoring and handling of each plank means every floor reaches its destination ready for installation. We are often told by flooring contractors that our milling is the finest they have ever worked with. Obviously making a floor easy to install is important as many homeowners attempt the job themselves.
Remember, we are always pleased to offer our guidance and expertise to any D.I.Y homeowner.